G- Valve Spring Tool (139QMB, GY6)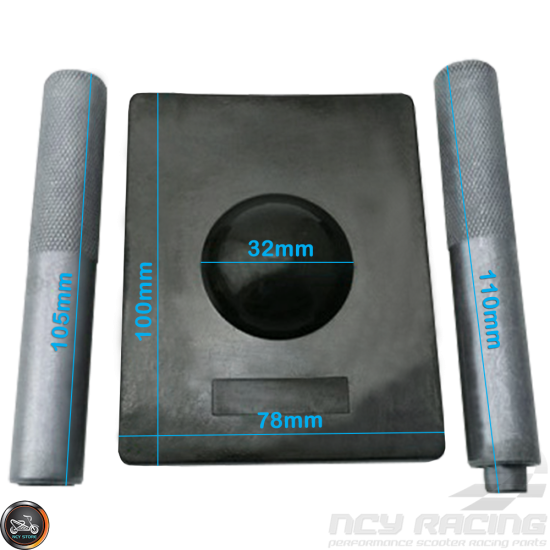 Description: Valve Spring Tool makes changing valves spring safer, faster, and easier than the compress clamp down old method for 139QMB 49/50cc and GY6 125/150cc cylinder head.

Specifications:

Includes the following Mat, and Compression rods.
• 1x Rubber Base Mat
• 2x Metal Spring Actuated Compression Rods
• Hollow Port Diameter: 12mm/ 0.47in
• Inner Ring Port Diameter: 6mm/ 0.24in
• Fit Rocker Arm Assembly: 54mm, 57mm, 64mm, 69mm / Feeler Gauge: .004in / .005in / Socket: 9mm
• Fit Valve Springs: 2V / Keepers: 2V / Retainers: 2V / Seals: 2V / Shims: 2V
• Fit GY6 125/150cc+ 2V
• Fit QMB 49/50cc+ 2V

Supported Models: GY6 139QMB 49cc-50cc 4-stroke, 152QMI 125cc, 157QMJ 150cc, 161QMK 170cc, 161QML 200cc, Chinese Scooter, ATV, Genuine Buddy, Kymco, Polaris RZR 170, Ruckus, TaoTao, Vento, and virtually any other GY6-based engine with these measurements.
-----
Item Weight & Product Dimensions:
• 0.581 pounds | 107" (L) x 4.2" (W) x 0.7" (W); 111" (L) x 4.4" (W) x 0.7" (W)
G- Valve Spring Tool (139QMB, GY6)

G
Price in reward points: 15