Naraku Cylinder 59mm 155cc Big Bore Kit w/4V Forged Piston (BWS, Zuma 125)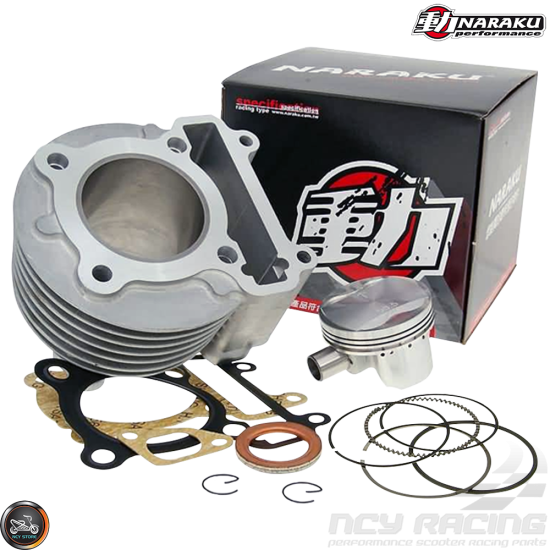 Description: Naraku Cylinder 59mm 155cc Big Bore Kit with 4-Valve Forged Piston. Big Bore cylinder kit for Yamaha Cygnus 5ML engines like Yamaha BWS 125 and Yamaha Zuma 125. The highlight of this cylinder kit is the forged piston for increased durability and reduced friction valves and the raised piston skirt provides better compression. The bore measures 59mm. The kit comprises of jug barrel, piston, rings, wrist pin, clips, and required base and head gaskets.
NOTE: Variator must also be adjusted to ensure correct calibration. Not legal for use in California on pollution controlled vehicles.
Specifications:
Includes the following Cylinder, Piston + Rings, Gaskets (chain tensioner gasket, base gasket, steel head gasket, steel exhaust gasket), Wrist pin, and Circlips.
• 1x Forged-Alumin Piston: 59mm 4V
• 5x Piston Rings: 59mm
• 1x Wrist Pin w/G-clips
• 1x Cast-Iron Cylinder: 59mm
• Outer Sleeve Diameter: 62mm
• Cylinder Height: mm
• Overall Height: mm
• Made in Taiwan
• Fit BWS 125
• Fit Zuma 125

Supported Models: Yamaha BWS 125, Yamaha Cygnus 125, Yamaha GTR Aero 125, Yamaha Cuxi 100 4V, Yamaha RS 100 4V, Yamaha Zuma 125
-----
Item Weight & Package Dimensions:
• 3 pounds | 5.745" (L) x 5.125" (W) x 4.948" (H)

Naraku Cylinder 59mm 155cc Big Bore Kit w/4V Forged Piston (BWS, Zuma 125)
Stock:

40

Reward Points:

8

Part #:

NK600.50F
Naraku
Price in reward points: 208
Tags:
yamaha bws 125 4-valve bbk
,
yamaha cygnus 125 4v bbk
,
yamaha bws 125 4v big bore kit
,
yamaha zuma 125 4-valve bbk
,
yamaha zuma 125 4v bbk
,
yamaha zuma125 4v big bore kit
,
yamaha cygnus 125 4v big bore kit
,
naraku cylinder 59mm 155cc big bore kit 4v forged piston yamaha cygnus 125
,
naraku cylinder 59mm 155cc 4v big bore kit forged piston yamaha bws 125
,
naraku cylinder 59mm
,
naraku forged piston
,
naraku 59mm bbk
,
155cc bbk
,
bws 155cc bbk
,
yamaha bws 155cc big bore kit
,
bws big bore kit