Naraku Gear Set 15*37 (GY6)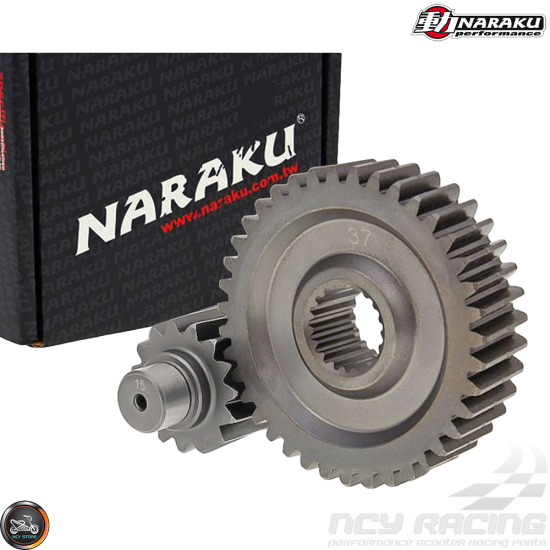 Description: Naraku Gear Set 15*37 has a 20% increase up gear ratio over the stock gear set (13*40 teeth). Which will provide higher top-end speed without losing power on acceleration. Since the GY6 125/150cc transmission stock gear teeth are 13*40 which = gear ratio 3.076:1 this means the stock gear 13-teeth counter shaft has to turn 3.076 full-turns to drive 1 full-turn of its 40-teeth final drive gear thus turns its final drive axle which the rear wheel spin freely on.

The final gear ratio is the last bit of gearing between the transmission gear and the final drive axle of the rear wheel. In general, a lower final gear ratio will lead to less torque at the rear wheel but higher top speed. Meanwhile, a higher gear ratio will result in the opposite, more torque at the rear wheel but lower top speed.

Here's how to calculate the gear ratio for Naraku Gear Set 15*37. Just divide the number of final drive gear teeth 37 by the number of the counter shaft teeth 15. It's 37 / 15 = 2.466:1 gear ratio. This means the 15-teeth counter shaft gear takes 2.466 full-turns to drive 1 full-turn the larger 37-teeth drive gear. Overall it will take less counter shaft gear turn for the rear wheel to spin compared to the stock gear ratio of 3.076:1.
To calculate gear ratio percentage change in this example take (stock 40 / 13) - (Naraku 37 / 15) = 0.610, then take 0.610 / (stock 40 /13) = 0.198 or 20% increase up gear Naraku Gear Set 15*37 over the stock. If it positive percentage it's called an up gear, if it negative percentage it's called a down gear. Now you know. Get the most out of your big bore kit, with increased top speed and a more usable rev range performance with the right transmission gear set changed by Naraku.
NOTE: Not included, must reuse stock 42-teeth counter shaft gear or purchase Part# GY14656. A 12-ton hydraulic compressor is required for removing the stock 42-teeth counter shaft gear off its 13-teeth counter shaft and then re-pressing the stock 42-teeth counter shaft gear onto the new Naraku 15-teeth counter shaft, in this set. Please compare OE dimension before ordering to assure correct fitment.

Specifications:
Include the following Transmission gear set.

• 1x Front Counter Shaft Teeth: 15 / Spline L: 24mm / OD: 33mm / Overall L: 60.25mm
• Gear Press-On Area L: 12.08mm x OD: 19.1mm / Ends L: 9<10.5mm x OD: 15mm
• 1x Rear Final Drive Gear Teeth: 37 / Inner Spline: 19
• OD: 69.1mm / ID: 18mm / W: 19.6mm
• Made in Taiwan
• Fit 54mm Stud Spacing (A-Block)
• Fit 57mm Stud Spacing (B-Block)
• Fit GY6 125/150cc+

Supported Models: NCY CVT KIT (Part #1200-1048); GY6 152QMI 157QMJ 161QMK 161QML Chinese Scooter, Genuine Buddy, Kymco, Ruckus, Vento, and virtually any scooter engine with these measurements.
-----
Item Weight & Package Dimensions:
• 1.281 pounds | 6.5" (L) x 5.5" (W) x 1.308" (H)

Naraku Gear Set 15*37 (GY6)
Stock:

39

Reward Points:

3

Part #:

NK901.23
Naraku
Price in reward points: 78
Tags:
15x37 gear set
,
naraku transmission gear set
,
naraku transmission gear
,
naraku gear set
,
naraku gear
,
naraku transmission gear set 15-37 gy6
,
naraku transmission gear set 15-37
,
gy6 gear set
,
gy6 transmission gear set 15-37
,
gy6 gear set 15-37
,
scooter transmission gear set 15-37
,
scooter gear set 15-37