Naraku Intake Manifold 28mm Non-EGR V.2 Coated (139QMB, GY6)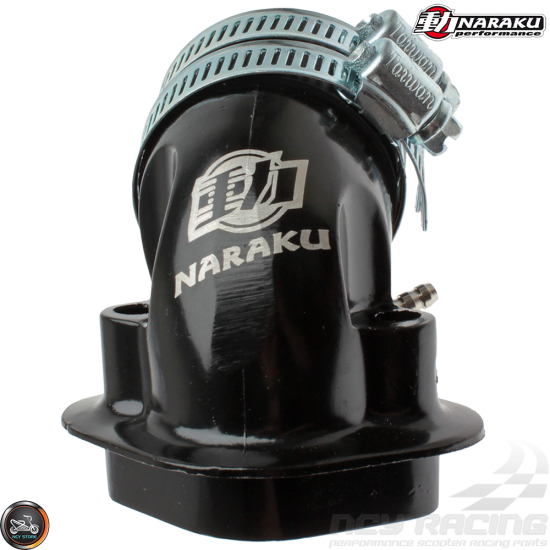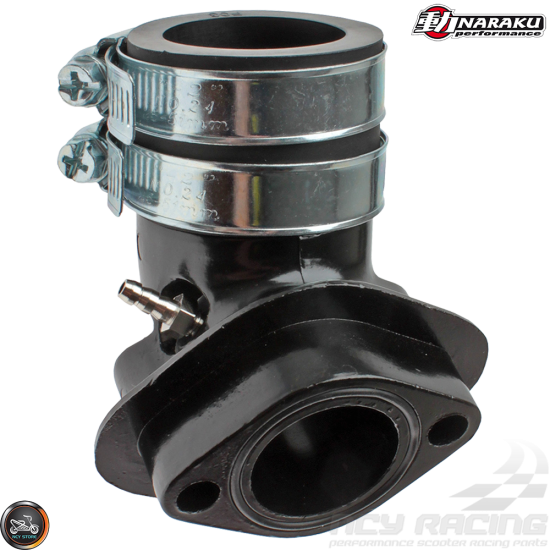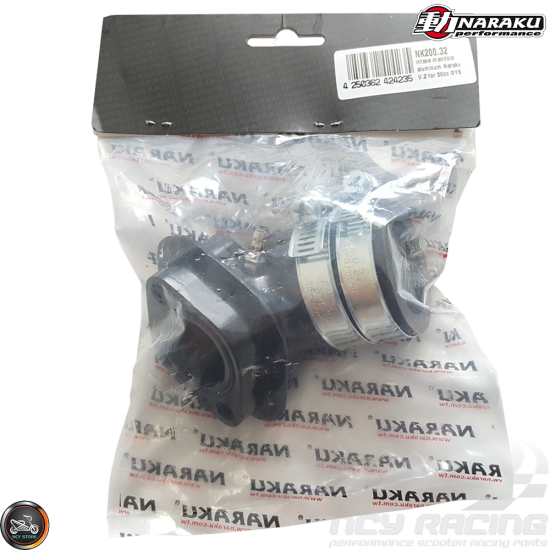 Description: NARAKU V.2 Intake Manifold Coated Non-EGR 28mm offers a smooth bore and larger inlet diameter overstock. Combined, these two assets allow more air and more fuel into your cylinder, giving you more power. Intake manifold upgrades are a must for larger carburetors. It doesn't make sense to install a large carburetor only to have its flow restricted by the manifold. Larger manifolds can make a noticeable power increase on their own and provide a choice option over the standard rubber manifolds. Long-lasting parts, and more power. It's a win-win. Work on 139QMB 50cc and all GY6-based models, as well as Honda Monkey and Monkey replica engines.

NOTE: 139QMB may require tapered air-flow to 21mm when installing any intake manifold 24mm or larger on its cylinder head. See Naraku Intake Manifold Spacer 24mm (Part# NK200.04). Check local laws before installing them. For off-road use only, not legal use in California's public roads.
Features:

Includes the following Intake manifold, Clamps, Fittings, and O-ring.
• 1x Cast Aluminum Intake Manifold / PTFE Coated
• 1x Vacuum Port ID: 2.4mm / OD: 4.6mm
• 1x Rubber O-ring ID: 31mm / OD: 34.5mm / H: 2mm
• 2x Stainless Steel Clamps (25-51mm)

Specifications:
• Carb Bore: 28mm
• Carb Coupler ID: 32mm / OD: 46.83mm
• Coupler Flex ID: 3mm max. ± 29mm
• Engine Bore: 26.85mm / OD: 40.2<59.35mm
• Bolt Space: 45.1mm / H: 34.06mm
• Overall L: 102.4mm / W: 74.8mm / H: 83mm
• Made in Taiwan
• Fit CVK Carburetor 26mm-32mm
• Fit PWK Carburetor 26mm-32mm
• Fit TM26 / TM32 Carburetor
• Fit Vacuum Hose 4.5mm
• Fit GY6 125/150cc+
• Fit QMB 49/50cc+
Supported Models: 139QMB 49/50cc 4-stroke, GY6 125/150cc 4-stroke, 152QMI 125cc, 157QMJ 150cc, 161QMK 170cc, 161QML 200cc, Chinese Scooter, ATV, Genuine Buddy, Kymco, Polaris RZR 170, Ruckus, TaoTao, Vento, and virtually any other GY6-based engine with these measurements.
-----
Item Weight & Product Dimensions:
• 0.506 Pounds | 4.031" (L) x 2.944" (W) x 3.267" (H)

Naraku Intake Manifold 28mm Non-EGR V.2 Coated (139QMB, GY6)
Stock:

22

Reward Points:

2

Part #:

NK200.32
Naraku
Price in reward points: 59
Tags:
naraku intake manifold 28mm
,
nk200.32 naraku intake manifold 28mm non-egr coated v.2 139qmb gy6
,
nk200.32 naraku intake manifold coated v.2 non-egr 30mm 139qmb gy6
,
naraku intake manifold coated non-egr 30mm qmb gy6
,
naraku 32mm coated intake manifold non-egr qmb gyy6
,
naraku intake manifold gy6
,
gy6 naraku coated intake manifold non-egr 32mm
,
gy6 naraku intake manifold
,
qmb coated intake manifold egr 32mm
,
qmb intake manifold
,
gy6 scooter coated intake manifold non-egr 32mm
,
gy6 scooter intake manifold