Naraku PHBG Main Jet 50-68 10-Pcs Kit (Aprilia, JOG, Zuma 50)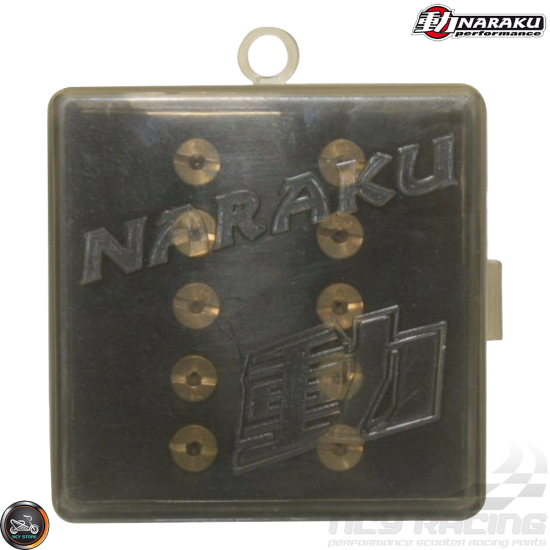 Description: Naraku PHBG Main Jet 50-68 10-Pcs Kit for Yamaha Zuma 2-stroke as well as 2-stroke scooters from manufacturers such as Aprilia, Malaguti, Derbi, and others PHBG Carburetors. Includes 10-pieces, size range from #50 - #68.
NOTE: M5 main jets are generally used in 19mm carbs or bigger.
Specifications:
Includes the following 10 Piece Set (1 of each size main jets).
• Main Jet Sizes: 50, 52, 54, 56, 58, 60, 62, 64, 66 & 68 RPM
• Keihin Round Style Main Jet Kit
• Thread Size: M5 x 0.8mm
• Overall Length: 8mm
• Made in Taiwan
• Fit 5mm Main Jet Slot
• Fit PHBG Carburetors
• Fit Aprilia 49/50cc
• Fit Jog 49/50cc
• Fit Zuma 49/50cc

Supported Models: Aprilia, Derbi, Malaguti, Yamaha Zuma 2T, and virtually any 5mm main jet slot PHBG Carburetors.
-----
Item Weight & Package Dimensions:
• 0.0525 pounds | 3.117" (L) x 2.771" (W) x 0.899" (H)

Naraku PHBG Main Jet 50-68 10-Pcs Kit (Aprilia, JOG, Zuma 50)
Naraku
Price in reward points: 24
Tags:
carburetor phbg main jet kit
,
phbg main jet kit
,
phbg main jet
,
phbg main jet 50
,
phbg main jet 52
,
phbg main jet 54
,
phbg main jet 56
,
phbg main jet 58
,
phbg main jet 60
,
phbg main jet 62
,
phbg main jet 64
,
phbg main jet 66
,
phbg main jet 68
,
carburetor phbg main jet kit zuma
,
aprilia phbg main jet kit
,
derbi phbg main jet kit
,
2 stroke phbg carburetor main jet kit
,
phbg carburetor main jet kit