NCY Cylinder Head 61mm 171cc 2V 27.5/23.5 Fit 54mm (GY6)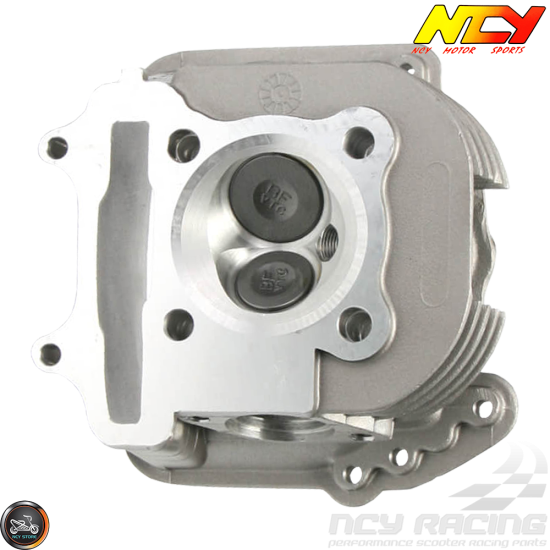 Description: NCY 61mm Cylinder Head Wear-Resisting 2 valves with a larger 27.5 intake / 23.5 exhaust ports will allow your GY6 cylinder to breathe better! Works great with NCY Cylinder 61mm 171cc Big Bore Kit w/Cast Piston. A 10mm diameter head allows for extra clearance between your wrench and the head for easy access. When changing a cylinder kit or an exhaust, it's a clever idea to pick up a few extra 8mm Studs + Nuts, since these can easily need replacing and bring your project to a grinding halt while you wait. These 6mm nuts are also kool-looking add-ons (sold separately).

Specifications:
Includes the following Cylinder Head and installed Valves Assembly.

• 1x Cylinder Head Stud Space: 54mm / H: 60mm / Intake Port: 26.5mm / Exhaust Port: 25mm
• 2x Valves: 27.5x66mm Intake / 23.5x65.6mm Exhaust / Stem: 5mm / (w/intake valves) H: 67<69.3mm
• Intake Manifold Bolt-to-Bolt Space: 45mm
• Intake Threads: M6
• Exhaust Bolt-to-Bolt Space: 45<51mm
• Exhaust Threads: M8
• Made in Taiwan
• Fit Intake Studs: M6 / Nuts: M6 / Socket: 10mm
• Fit Exhaust Studs: M8 / Nuts: M8 / Socket: 12mm
• Fit Cylinder Studs: 187mm 195mm / Nuts: M8 / Washers: M8 / Side Bolts: M6 / Socket: 12mm
• Fit 54mm Stud Spacing (A-Block)
• Fit 54mm Rocker Arm 2V Assembly
• Fit Crankshaft 57.8mm +3mm
• Fit Dowel Pin Set (10x14mm)
• Fit Cam Chain 45 (90) links
• Fit Chain Guide (standard)
• Fit 54mm Cylinder 58.5mm to 63mm 2V
• Fit GY6 125/150cc+
• Optional: cut plastic fan shroud for best fitment
Supported Models: GY6 Crankcase (Part# 1100-1418); GY6 152QMI 157QMJ Chinese Scooter, ATV, Genuine Buddy, Kymco, Ruckus, Vento
-----
Item Weight & Package Dimensions:
• 2.4375 Pounds | 7.5" (L) x 6.875" (W) x 3" (H)
NCY Cylinder Head 61mm 171cc 2V 27.5/23.5 Fit 54mm (GY6)
Stock:

18

Reward Points:

5

Part #:

1100-1254
NCY
Price in reward points: 133
Tags:
171cc
,
171cc bbk
,
171cc big bore kit
,
ncy 171cc big bore kit
,
ncy cylinder head 61mm 171cc 2v 27.5 23.5 fit 54mm gy6
,
ncy cylinder head 61mm 2v 27.5 23.5 fit 54mm gy6
,
171 cylinder head
,
171 big bore kit
,
ncy 61mm cylinder head wear-resisting 2v 27.5 23.5 fit 54mm gy6
,
ncy 61mm cylinder head 2v 27.5 23.5 fit 54mm gy6
,
ncy cylinder head 61mm wear-resisting valve
,
ncy 61mm wear-resisting valve cylinder head
,
ncy big bore kit
,
ncy cylinder head
,
gy6 big bore kit
,
gy6 cylinder head
,
scooter cylinder head
,
scooter big bore kit