NCY Cylinder 61mm 171cc Big Bore Kit w/Cast Piston Fit 54mm (GY6)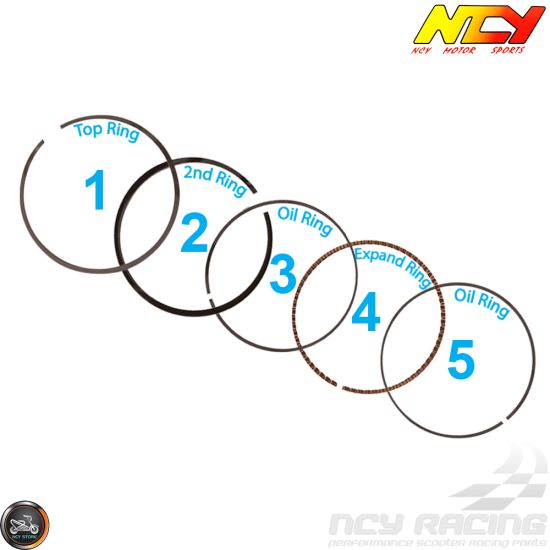 Description: NCY 61mm 171cc Cast-Iron Cylinder Kit with a Cast Aluminum Piston. Give your GY6 based scooter some serious power with this bolt-on 171.3cc kit for most GY6 125/150cc engines. As far as we know, this is the only 61mm cylinder kit for the GY6 engine that exists in the US. With most 61mm cylinder kits, you have to cut the engine cases in some way to make them fit (Outer Cylinder Skirt Diameter: 65mm). Not so with the NCY Cylinder 61mm 171cc Big Bore Kit (Outer Cylinder Skirt Diameter: 62.7mm). It also has a lightweight cut-down piston to increase performance even more. It's highly recommended to jet this kit significantly rich because of its high-performance capability. To maximize performance and efficiency, it's recommended to get our 61mm big valve head as well. Some stock heads may not fit.
NOTE: This NCY Cylinder 61mm Jug will NOT work on Genuine Buddy 125 (see NCY Part# 1100-1287). Also, please measure with a caliper GY6 crankcase bore (opening) for 62.7mm cylinder outer diameter sleeve need a minimum of 62.9mm bore clearance or boring and machining are required.

Specifications:
Includes the following Cylinder, Piston + Rings, Gaskets (compression base gaskets, steelhead gasket), Wrist pin, and Circlips.
• 1x Cast-Alumin Piston: 61mm*
• 5x Piston Rings: 61mm Thick:
1|1|2mm
• 1x Wrist Pin w/G-clips: 48mm x 15mm
• 1x Cast-Iron Cylinder: 61mm
• Outer Sleeve Diameter: 62.7mm
• Cylinder Height (w/o sleeve): 69.3mm
• Overall Height (w/sleeve): 90mm
• Made in Taiwan
• Fit Intake Studs: M6 / Nuts: M6 / Socket: 10mm
• Fit Exhaust Studs: M8 / Nuts: M8 / Socket: 12mm
• Fit Cylinder Studs: 187mm 195mm / Nuts: M8 / Washers: M8 / Side Bolts: M6 / Socket: 12mm
• Fit 54mm Stud Spacing (A-Block)
• Fit 54mm Rocker Arm 2V Assembly
• Fit Crankshaft 57.8mm +3mm
• Fit Dowel Pin Set (10x14mm)
• Fit Cam Chain 45 (90) links
• Fit Chain Guide (standard)
• Fit 54mm Cylinder Head 58.5mm to 61mm 2V
• Fit GY6 125/150cc+
• Optional: cut plastic fan shroud for best fitment

Supported Models: GY6 Crankcase (Part# 1100-1418); GY6 152QMI 157QMJ Chinese Scooter, ATV, Genuine Buddy, Kymco, Ruckus, Vento

-----
Item Weight & Package Dimensions:
• 2.793 pounds | 5.7" (L) x 5.7" (W) x 4.669" (H)

NCY Cylinder 61mm 171cc Big Bore Kit w/Cast Piston Fit 54mm (GY6)
Stock:

16

Reward Points:

5

Part #:

1100-1288
NCY
Price in reward points: 156
Tags:
171cc
,
171cc bbk
,
171cc big bore kit
,
ncy 171cc big bore kit
,
ncy cylinder 61mm 171cc 62.9 od big bore kit cast piston fit 54mm gy6
,
ncy cylinder 61mm 171cc 62.9 od big bore kit cast piston gy6
,
ncy 61mm cylinder 171cc 62.9 od big bore kit cast piston gy6
,
171 big bore kit
,
171cc ncy kit
,
ncy 61mm cylinder
,
ncy cylinder 61mm 171cc 62.9 od big bore kit aluminum piston gy6
,
ncy cylinder 61mm 171cc big bore kit aluminum piston gy6
,
ncy cylinder 61mm big bore kit cast piston
,
ncy 61mm wear-resisting valve cylinder
,
ncy big bore kit
,
ncy cylinder
,
gy6 big bore kit
,
gy6 cylinder
,
scooter cylinder
,
scooter big bore kit
,
ncy 61mm wear-resisting valve cylinder head
,
ncy big bore kit
,
ncy cylinder head
,
gy6 big bore kit
,
gy6 cylinder head
,
scooter cylinder head
,
scooter big bore kit