SSP-G CVK Throttle Cable 70in (QMB, GY6, Universal)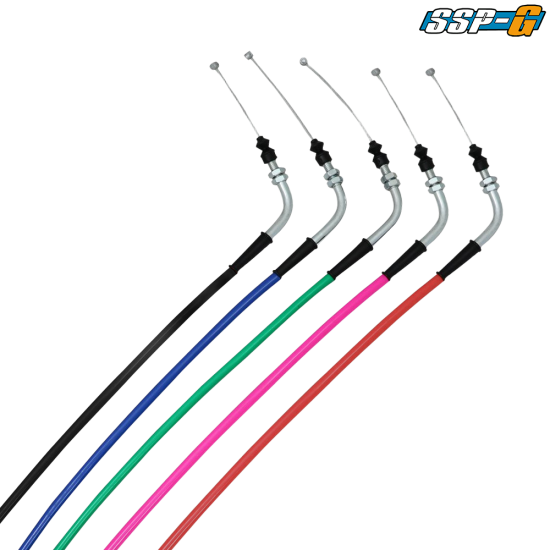 Description: SSP-G Throttle Cable 70 inches with 45° angle mount for CVK carburetor on 139QMB 49/50cc, GY6 125/150cc+, Honda Ruckus, and many others models of GY6-based Chinese scooters.
If you need a longer CVK throttle cable due to that Honda stretch this is it can be used on Honda ruckus with a CVK carburetor. We recommend that you measure the original cable and check the detailed photos for accuracy.

NOTE: The throttle cable will come dry (non-lube). Recommend use lubricating grease, oil, or WD-40 before use. This also helps ease cable friction wear and tear in throttle cable's sleeves, use lubricating tool help grease where applicable.

Specifications:
Include the following CVK throttle cable.
• 1x CVK Throttle Cable L: 70" (5ft 10in) / Mount Angle: 45°
• Sleeve L: 70" / Overall Cable L: 81"
• Color Sleeve (choose one): Black, Blue, Green, Pink, Red
• Fit CVK Carburetor
• Fit QMB 49/50cc+
• Fit GY6 125/150cc+

Supported Models: GY6 139QMB 49cc-50cc 4-stroke, 50QMF 90cc-100cc, 152QMI 125cc, 157QMJ 150cc, 161QMK 170cc, 161QML 200cc, Chinese Scooter, ATV, Genuine Buddy, Kymco, Polaris RZR 170, Ruckus, TaoTao, Vento, and virtually any other GY6-based engine with these measurements.
-----
Item Weight & Package Dimensions:
• 0.75 pounds | 8.25" (L) x 6.5" (W) x 1.625" (H)

SSP-G CVK Throttle Cable 70in (QMB, GY6, Universal)
SSP-G
Price in reward points: 20
Tags:
ssp-g cvk throttle cable 70in
,
honda ruckus stretch throttle cvk cable
,
ssp-g-throttle-cable-70in-cvk-assy-qmb-gy6-universal
,
cvk throttle cable
,
ssp-g throttle cable 70in cvk assy 139qmb ruckus
,
ssp-g carburetor cvk cable assy 139qmb ruckus
,
ruckus
,
ssp-g carburetor cvk cable assy
,
ssp-g cable assy cvk carburetor
,
ssp-g throttle cable
,
ssp-g 70-inch throttle cable
,
gy6 70-inch throttle cable
,
gy6 throttle cable
,
gy6 throttle cable