Taida Cylinder Head 61mm 171cc 2V 28/23 Fit 54mm (GY6)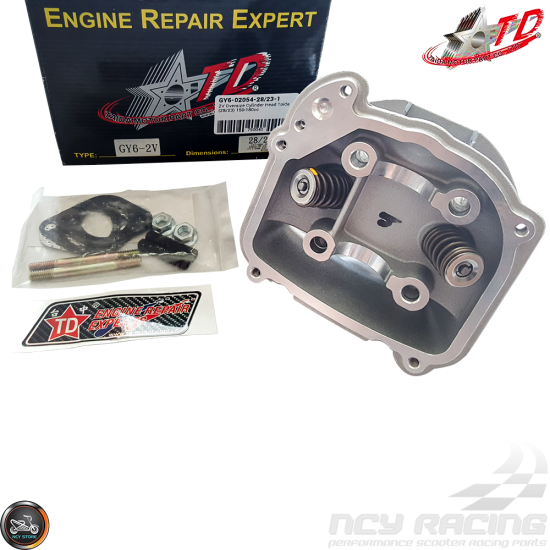 Description: 2V Performance Taida head with larger 28/23 valves and larger intake/exhaust ports. This cylinder head fits Taida Cylinder [58.5mm-63mm] 2V Kit for GY6 125-180cc engines (scooters, quads, and buggies). To increase performance, we suggest a performance camshaft.
Specifications:
Includes the following Cylinder Head, Valves Assembly, Gaskets (manifold spacer +gasket, steel exhaust gasket), intake\exhaust studs, nuts, and Taida Sticker.
• 2-Valve OD: 28mm Intake \ OD: 23mm Exhaust
• Valve Stem OD: 5mm Intake \ OD: 5mm Exhaust
• Head Port OD: 27.5mm Intake \ 26.5mm Exhaust
• 60mm Cylinder Head Height (w/o valve)
• 69mm Overall Height (w/intake valve)
• 6mm Intake Studs
• 8mm Exhaust Studs w/Nuts
• Made in Taiwan

-----

• Fit Cam Chain 45 (90) links
• Fit Chain Guide (standard)
• Fit Crankshaft 57.8mm +2.5mm
• Fit Stud Set- 187mm 195mm
• Fit Dowel Pin Set (10x14mm)
• Fit 54mm Stud Spacing (A-Block)
• Fit 54mm Cylinder 61mm 2V
• Fit GY6 125/150cc+
• Optional: cut plastic fan shroud for best fitment
Supported Models: GY6 152QMI 157QMJ Chinese Scooter, ATV, Genuine Buddy, Kymco, Ruckus, Vento

-----
Item Weight & Product Dimensions:
• 2.312 pounds | 5.82" (L) x 5.310" (W) x 2.718" (H)
Taida Cylinder Head 61mm 171cc 2V 28/23 Fit 54mm (GY6)
Stock:

10

Reward Points:

5

Part #:

GY6-02054-28-23-1

Taida
Price in reward points: 143
Tags:
171cc
,
171cc bbk
,
171cc big bore kit
,
taida 171cc big bore kit
,
taida cylinder head 61mm 171cc 2v 28-23 fit 54mm gy6
,
taida cylinder head 63mm 2v 28-23 fit 54mm gy6 125-180cc
,
taida 63mm cylinder head 2v 28-23 fit 54mm gy6 125-180cc
,
taida 61mm cylinder head
,
61mm taida cylinder head
,
taida oversize 63mm cylinder head 2v 28-23 fit 54mm gy6
,
taida oversize 63mm cylinder head 2v 28-23 fit 54mm
,
taida oversize 63mm cylinder head 2v 28-23
,
taida oversize 63mm cylinder head 2v
,
taida oversize 63mm cylinder head
,
taida 63mm cylinder head
,
gy6 63mm cylinder head
,
taida 59mm cylinder head 2v 28-23 fit 54mm gy6 125-180cc
,
taida oversize 59mm cylinder head 2v 28-23 fit 54mm gy6
,
taida oversize 59mm cylinder head 2v 28-23 fit 54mm
,
taida oversize 59mm cylinder head 2v 28-23
,
taida oversize 59mm cylinder head 2v
,
taida oversize 59mm cylinder head
,
taida 59mm cylinder head
,
gy6 59mm cylinder head