Taida Transmission Bearing Set (GY6)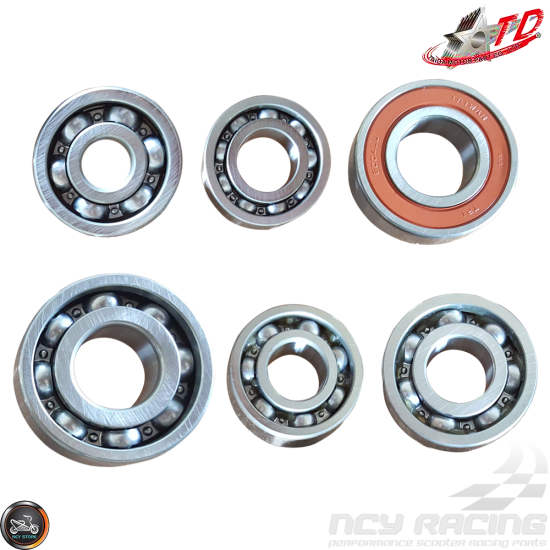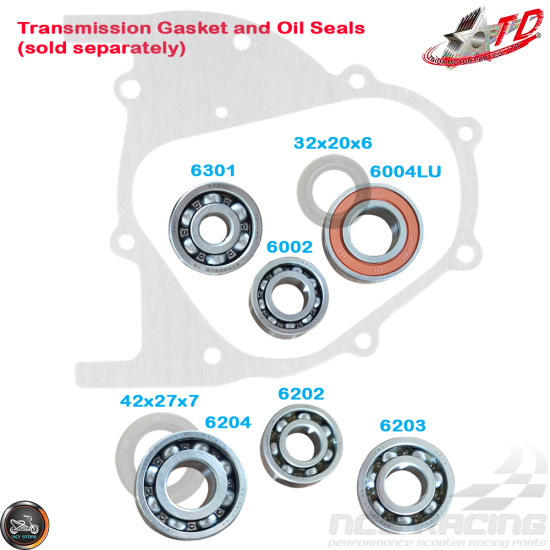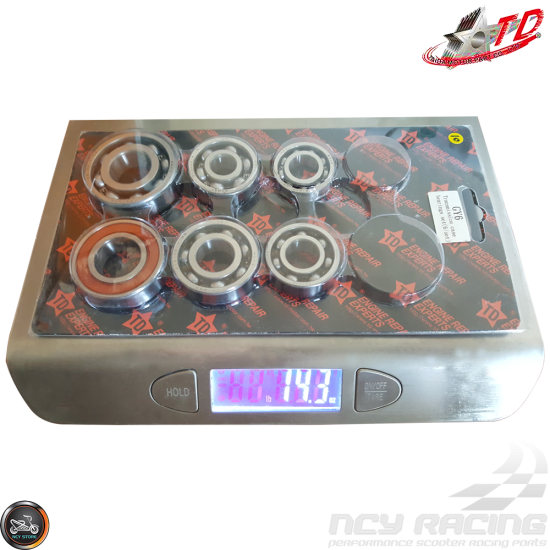 ETA 45 - 60 Days
Description: Taida Transmission Bearing Set aka rear drive bearing set for GY6 125/150cc 4-stroke transmission case bearings, complete set of 6. Taida Transmission Bearing Set comes complete with all genuine TPI bearings - the best in the industry!
NOTE: Transmission cover (Part# 179-9), gasket (Part# GY16359) and oil seals (Part# 1100-1358) sold separately.

Temperature Modification May Be Required: You'll need to heat the aluminum crankcase area where the bearing set will be placed in order to fit immediately the freezing Taida bearing set. Users assume full responsibility and risk doing so using this Taida Transmission Bearing Set.

Specifications:
Includes the following Transmission bearings.
• 1x 6004 LU Bearing ID: 20mm / OD: 42mm / H: 12mm - 2.3oz.
• 1x 6002 Bearing ID: 15mm / OD: 32mm / H: 9mm - 1.1oz.
• 1x 6202 Bearing ID: 15mm / OD: 35mm / H: 11mm - 1.5oz.
• 1x 6203 Bearing ID: 17mm / OD: 40mm / H: 12mm - 2.3oz.
• 1x 6204 Bearing ID: 20mm / OD: 47mm / H: 14mm - 3.7oz.
• 1x 6301 Bearing ID: 12mm / OD: 37mm / H: 12mm - 2.2oz.
• Fit Dowel Pin Set (8x14mm)
• Fit Belt Size: 743, 835, 842
• Fit 54mm Stud Spacing (A-Block)
• Fit 57mm Stud Spacing (B-Block)
• Fit GY6 125/150cc+

Supported Models: NCY CVT KIT (Part #1200-1048); GY6 152QMI 157QMJ 161QMK 161QML Chinese Scooter, ATV, Genuine Buddy, Kymco, Ruckus, Vento
-----
Item Weight & Package Dimensions:
• 0.825 pounds | 8.75" (L) x 4.75" (W) x 0.686" (H)

Taida Transmission Bearing Set (GY6)
Stock:

ETA 45 - 60 Days

Reward Points:

1

Part #:

GY6-BEAR-C

Taida
Price in reward points: 30
Tags:
transmission bearing set gy6
,
transmission bearing gy6
,
transmission bearings
,
6002 bearing
,
6004 bearing
,
6004 lu bearing
,
6004lu bearing
,
6202 bearing
,
6203 bearing
,
6204 bearing
,
6301 bearing
,
taida transmission bearings
,
gy6 rear drive bearings
,
gy6 taida bearings
,
gy6 rear drive bearings