UNI Air Filter Pod 44mm Straight (PK-52E)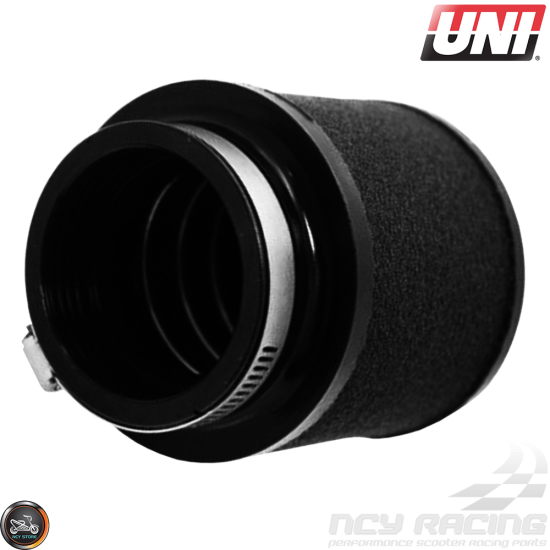 Description: Uni-versal air filter is where it all started over 45 years ago. High-Quality Dual Layer Polyurethane Foam (black) Pod Air Filter made by UNI. Make the world's best quality filter that clamps directly to the carburetor. UNI's signature black on black foam to give your scooter that dark-knight stealth look. Also, for use on air compressors, go-karts, motorcycles, snowmobiles, tractors, anything with a carburetor can benefit from a Uni Pod Air Filter. It's superior dirt capturing capabilities and its capacity to be easily cleaned and reused.
NOTE: Before use and/or cleanse (Part# UFC-300) and reuse filter must be oiled (Part# UFF-100) for proper filtration. Jetting changes may be required due to the increased airflow.
Features:
• Better Flowing than Paper Elements
• Clamp-On Carburetor Mounting
• Lifetime Guarantee Against Defects Material / Workmanship
• New Uni Washable Urethane Material
• Unaffected by Moisture or Gasoline

Specifications:

Includes the following Pod air-filter and Clamp.
• Filter ID: 44mm (1.732 in)
• Filter OD: 72mm (2.835 in)
• Filter Length: 64.5mm (2.539 in)
• Filter Overall Length: 82mm (3.228 in)
• Filter Open: 44mm (1.732 in)
• Polyurethane Foam: Black
• Stainless Steel Clamp: 32-52mm
• Urethane Flange Straight: 0°
• Washable \ Reusable
• Made in the U.S.A.
• Fit CVK Carburetor 24mm-30mm
• Fit Air-Filter Port OD: ± 46mm
• Fit DIO 49/90cc+
• Fit QMB 49/50cc+
• Fit GY6 125/150cc+
Supported Models: Honda Dio AF16 AF18E 50, Elite 50, Kymco ZX, SYM, GY6 40QMB 50cc 2-stroke, 139QMB 49cc-50cc 4-stroke, 50QMF 90cc-100cc, and virtually any engine with these measurements.
-----
Item Weight & Product Dimensions:
• 0.45 pounds | 3.5" (L) x 3.11" (W) x 1.732" (H)

UNI Air Filter Pod 44mm Straight (PK-52E)
Uni
Price in reward points: 24
Tags:
uni air filter pod 44mm straight pk-52e
,
44mm pod clamp-on pk-52e
,
uni air filter 44mm pod clamp-on pk-52e
,
uni air filter pod 44mm clamp-on pk-52e
,
uni pod filter
,
uni air filter
,
44mm pod air filter
,
44mm pod filter
,
pod filter
,
pod air filter 44mm clamp-on
,
uni air filter universal clamp-on air filter
,
uni air filter
,
uni air flow filter
,
uni pod air filter
,
air-flow filter
,
air filter
,
air pod filter
,
flat air filter
,
gy6 air flow filter
,
gy6 filter
,
scooter air filter