NCY Brake Disc 260mm Floated Gold w/Adapter (Honda PCX)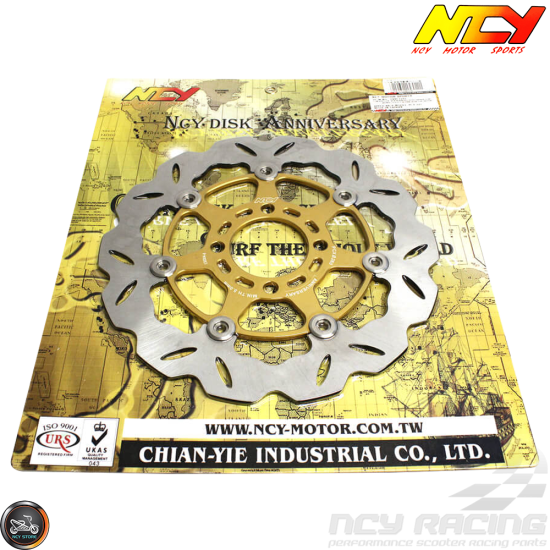 Non-Stock
Description: NCY Brake Disc 260mm Floated with brake caliper adapter for Honda PCX 125/150cc scooter. Provides benefits in overall braking performance in several ways. First, floating rotors allow for an aluminum center hub. Being lightweight and unsprung, the aluminum center hub is accelerated and decelerated more quickly than a standard steel disk contributing to the overall performance of the vehicle. Second, because the steel portion of the disc is separated from the center hub, it is allowed to expand and retract more uniformly than a single-piece disc aka fixed disc. This results in a higher tolerance for abuse and high temperatures.
NOTE: This NCY Brake Disc 260mm Floated has the required NCY Brake Caliper Adaptor to make this an easy upgrade (included).
Specifications:
Includes the following Disc brake and Caliper adapter.

• 1x Disc Diameter: 260mm (10.236in) / Thick: mm
• 1x Brake Caliper Adapter (black)
• Disc Material: Stainless Steel
• Disc Design: Floated (two-piece)
• Color: Gold/Gunmetal
• Made in Taiwan
• Fit Brake Caliper: 4-Piston
• Fit Honda PCX

Supported Models: Honda PCX 125/150
-----
Item Weight & Package Dimensions:
• 1.881 pounds | 12.5" (L) x 10.75" (W) x 0.76" (H)
NCY Brake Disc 260mm Floated Gold w/Adapter (Honda PCX)
Stock:

Non-Stock

Reward Points:

5

Part #:

1000-1295
NCY
Price in reward points: 227