NCY Front Fork Carbon Fiber Set Performance Drum Type (Ruckus, Zoomer)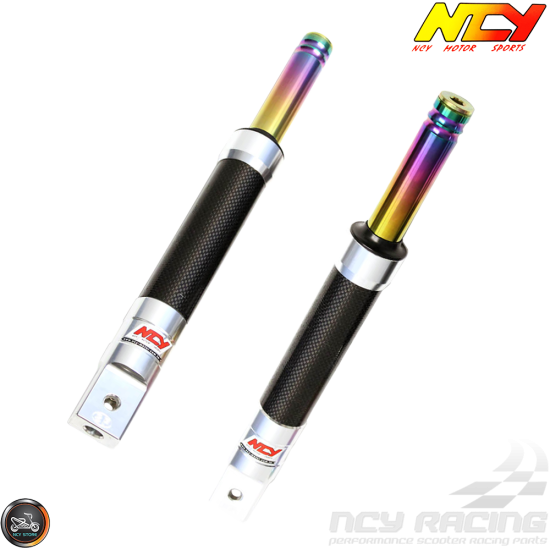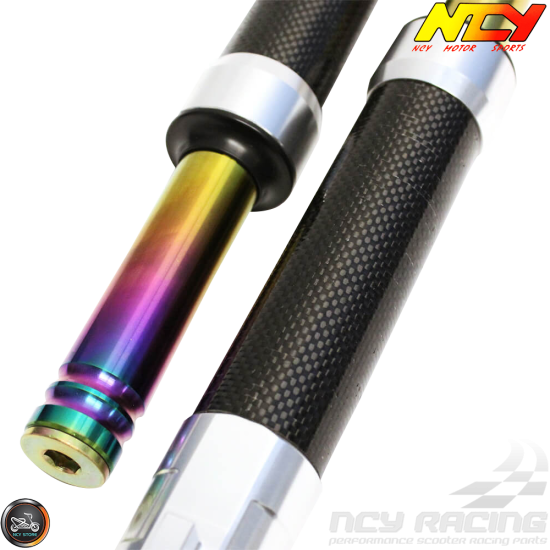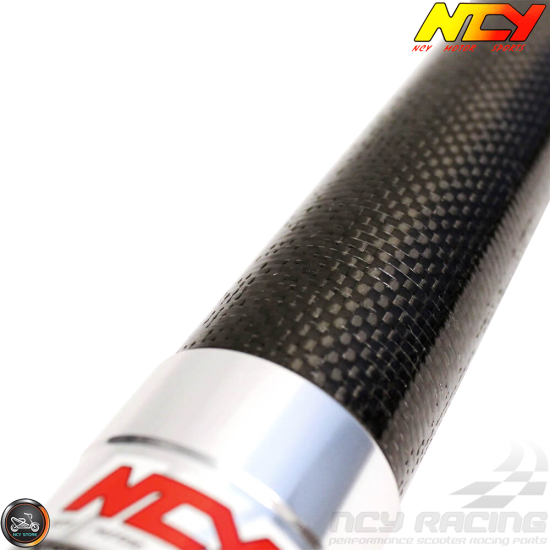 Description: NCY Front Fork Performance Set Carbon Fiber finish. Heavy duty-high performance front end for your Honda Ruckus or Zoomer. Refined look! These work with the stock drum-brake front wheel.
NOTE: Fits pre-2012 Honda Metropolitan scooters as well. Installs on the stock steering column clamp, however, the front fender must be removed during installation. Consult the service manual for instructions.
Specifications:
Include the following Front fork set.

• 2x Upper Stanchions (inner tube) L: 4.62 in / OD: 0.98<1.063 in
• 2x Lower Sliders (outer tube) L: 10.25 in / OD: 1.49<1.79 in
• Axle Hole L: 1.08 in / ID: 10mm
• 2x Allen Bolts Caps: 10mm
• 2x Allen Bolts: M8
• Overall L: 14.87 in
• Made in Taiwan
• Fit Allen Wrench: 6mm, 10mm
• Fit Metro
• Fit Ruckus

Supported Models: Honda Metropolitan (Pre-2012), Ruckus, Zoomer, and virtually any other scooter with these measurements.
-----
Item Weight & Product Dimensions:
• 5.681 Pounds | 14.875" (L) x 0.4<0.54" (ID) x 1<2" (OD)
NCY Front Fork Carbon Fiber Set Performance Drum Type (Ruckus, Zoomer)
Stock:

39

Reward Points:

10

Part #:

1000-1291
NCY
Price in reward points: 254