Return Policy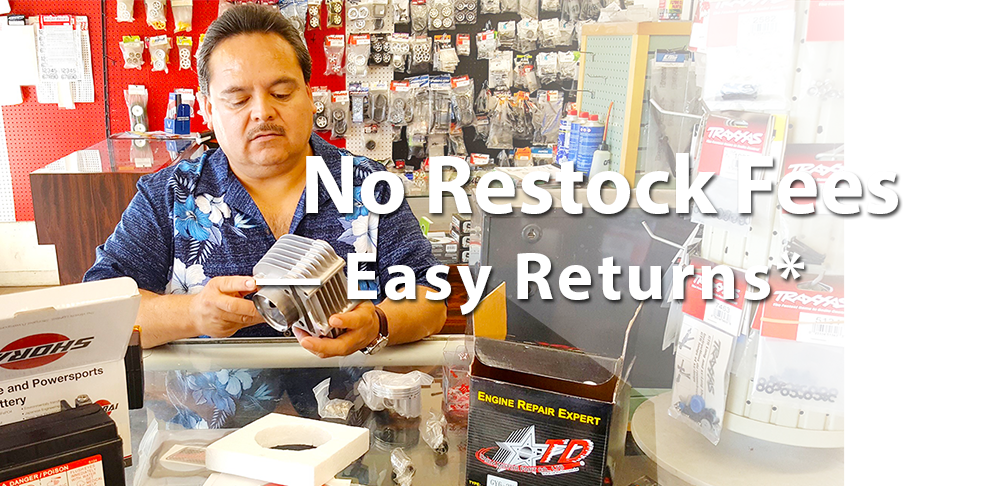 Please Read Before Returning Merchandise
We have a Return Merchandise Authorization System designed to better serve our customers and streamline the returns process. Below are step by step instructions for returning an item(s):

Call 1-209-355-8088 or email us and describe the item you're returning and the reason for the return. Your NCY STORE agent will guide you through the RMA (Return Merchandise Authorization) request process. We cannot accept returns without an RMA number.
Repackage the merchandise and include a copy of your original receipt, if applicable. Write your RMA # clearly and legibly on the 2nd line of the address (address below RMA# XXXX-XXXXXX) fixed on the outside shipping box (not the actual product package).
Ship the box to NCY STORE (address below). We are not responsible for lost shipments, so please use a trackable shipping method such as FedEx, UPS, or U.S. Postal Service with delivery confirmation. The customer is responsible for return shipping costs unless deemed otherwise by NCY STORE. When the merchandise arrives, it will be processed by our receiving department within 72hrs. We will inspect the item to ensure it is in new condition and issue the refund accordingly. If you got free shipping initially on your order the actual shipping amount, solely at our discretion, may be deducted back from your item refund lesson your refund amount total paid to you.

Merchandise Return Guidelines
All returns must have the RMA# written on the outside shipping box not the actual product package to be accepted.
Refusing delivery is NOT the same as returns. Additional charges may be applied if you refuse delivery.
If you need a replacement part right away we will charge you for the item, but we will credit you upon receiving and processing the returned item.
No returns over 14 days from the original invoice date will be accepted. Once your RMA has been issued, it will expire if the part is not returned to us within 14 days.
NCY STORE reserves the right to deny a return on items damaged by the customer during installation or during return shipping.
We cannot accept returns for merchandise damaged during shipping to the customer. If you happen to receive a damaged product from the freight carrier, save all packaging materials, take photos before the open package(s), and call or email us immediately in order to get the claim process started.
NCY STORE is not responsible for missing orders after they have been delivered. You are responsible for the security of your delivery location and claims for orders missing after delivery cannot be made as all responsibility at that point lies with the customer.
The following items are not acceptable for return: Air-filter, Brake, Brake Adaptor, Brake Cable, Master Cylinder, Brake Caliper, Brake Pad, Brake Lever, Carburetor, Cover, Custom Order, CVT Parts (Ankle-Bitter, CVT Belt, Drive Face, Clutch, Clutch Bell, Pulley, Spring, Transmission Gear Set, Variator, Weights), Engine, Engine Part (Camshaft, Cam Chain, Chain Guide, Cam Tensioner, Cylinder, Cylinder Head, Rocker Arm, Crankshaft, Starter Clutch, Oil Cooler, Pump, Carburetor, Intake, Manifold, Reed) Electrical (Battery, Battery Charger, Controller, CDI, Regulator, Spark Plug, Starter, Stator, Wire), Exhaust, Frame Ext. (Case Brace, Handlebar, Handlebar Post\Stand, Kickstand, Seat Bracket, Steering Column, Throttle Grip), Rim, Suspension (Adaptor, Axle, Fork, Shock), Speedometer (Speedo, Bracket, Cable, Gear), Tire, Items Sold by The Foot (Fuel line, Fuel filter, Vacuum Line), Tool, Special Order, Manual, Book, Oil/Chemical (consumable), and/or any Open/Used Part.
Pre-Paid Return Label
Please note that if you are offered a prepaid return label and the item is not defective the return shipping costs will be added to your item return cost if applicable. We manually review each and every return request for accuracy. If we find the wrong return reason was selected to avoid paying for return shipping (i.e. saying the item is defective when it doesn't fit or you ordered the wrong item) the return costs will be added plus any return label cost shipped back to you. All returns are tested to verify if consider manufacture defects or at our discretion considered modified or misused by the customer (which is not returnable).
It is important to note that if you return an item without external packaging (i.e. attaching a shipping label to the product box and shipping it back to us) a return shipping costs will be added plus if any applicable cost to ship the item back to you "as is" at your expense. However, if you choose not to pay for your item return back then your item will be considered abandoned with us after 30days upon our receipt and we will dispose of the item at our discretion. Otherwise, please ensure that you place the item in a separate shipping box or envelope and securely ship it back to us.
Again, if we paid for the original shipping charges, and a non-defective or damaged item is being returned to us, a pre-paid label chargeback will be charged to you, based on the shipping we paid.

Warranty
Stock Parts: Under warranty for 30 days from manufacturers defects with the following exceptions. Electric scooter controllers are not under warranty or returnable due to the nature of electronics and the potential for damage during installation. If you need a controller replaced please take your scooter to a trusted local certified scooter repair shop.
Performance Parts: We do not warranty any of these items or sell/approve for street use. Performance items come with the original manufacturer's warranty against factory defects.
Tools: We do not warranty tools.
Manufacturer Warranties: After the NCY STORE 14-day standard warranty period, NCY STORE is not responsible for any shipping costs incurred on valid manufacturer warranty claims; the customer assumes full shipping responsibility.
Manuals and Books: We do not warranty any manuals, books, or publications of any kind.
Engines: NCY STORE has a no-return policy on all engines, barring manufacture defects or shipping damage.
International Orders: NCY STORE does not cover freight charges on international warranty orders.
Other Terms and Conditions
Prices: All prices are in US dollars. The billing for your order will also be in US dollars, including that shipping outside the US. Your total order price will include the price of the product(s) plus any applicable sales tax and shipping charges. Please review your order carefully prior to submitting it for processing.
When a Return Shipping Label (RSL) is issued it expires within 24hrs. If the RSL is not used within that 24hr period an automatic charge will apply for item(s) received from NCY STORE for warranty replacement, but not paid for.
NCY STORE reserves the right to change prices for products at any time without prior notice.
NCY STORE reserves the right to change the terms and conditions of sale at any time.
Return Address:
NCY STORE
RMA# XXXX-XXXXXX
260 West Main St
Merced, CA 95340
--------------------------
US & Canada Call: 1-209-355-8088
Contact Us Email: [email protected]