Polini CVT Belt 810-22-28 (BWS, Zuma 125)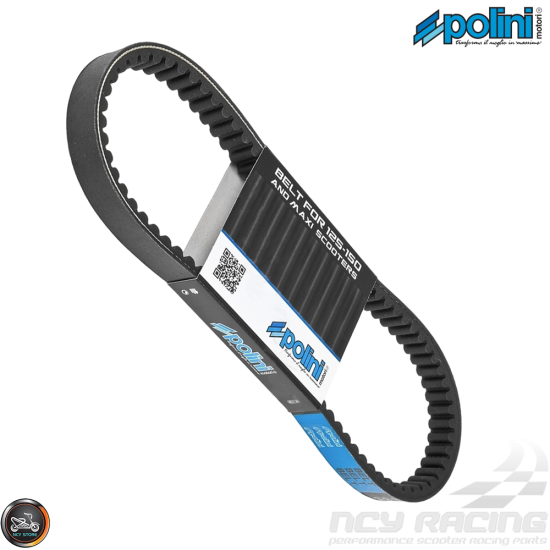 Description: Polini CVT Drive Belt for Yamaha BWS 125 and Yamaha Zuma 125/150cc Scooters. This Polini 810-22-28 CVT Drive Belt is a performance nylon rubber belt is designed to have more flex than stiff rigged Aramid (Kevlar) belt. Size CVT belt 810-22-28.
Specifications:
Include the following one belt.
• Nylon Fiber Construction
• Length: 810mm (31.889 in.)
• Width: 22mm (0.866 in.)
• Height: 9.6mm (0.354 in.)
• Groove Angle: 30°
• Made in Italy
• Fit BWS 125
• Fit Zuma 125

Supported Models: NCY CVT KIT Gen 4 (Part# 1200-1047); Yamaha BWS 125, Yamaha Zuma 125
-----
Item Weight & Product Dimensions:
• 0.35 pounds | 15.944" (L) x 0.866" (W) x 0.433" (H)

Polini CVT Belt 810-22-28 (BWS, Zuma 125)
Stock:

32

Reward Points:

1

Part #:

248.117
Polini
Price in reward points: 44
Tags:
248.117
,
248-117
,
248 117
,
polini 810-22-28 cvt drive belt yamaha zuma 125
,
scooter polini belt
,
nylon cvt belt
,
cvt belt 810-22-28
,
yamaha zuma 810-22-28 belt
,
zuma 810 22 28 belt
,
810-22-28
,
cvt longcase belt
,
longcase belt
,
yamaha zuma longcase cvt belt
,
yamaha zuma drive belts
,
scooter belts
,
scooter cvt belts
,
scooter belt 810-22-28
,
polini 810-22-28 cvt drive belt yamaha bsw 125
,
bsw polini belt
,
bsw nylon cvt belt
,
bsw cvt belt 810-22-28
,
yamaha bsw 810-22-28 belt
,
bsw 810 22 28 belt
,
bsw 810-22-28
,
bsw cvt longcase belt
,
bsw longcase belt
,
yamaha bsw longcase cvt belt
,
yamaha bsw drive belts
,
bsw scooter belt
,
bsw scooter cvt belts
,
bsw scooter belt 810-22-28