Malossi Cylinder 52mm 88cc Big Bore Kit w/Cast Piston (139QMB)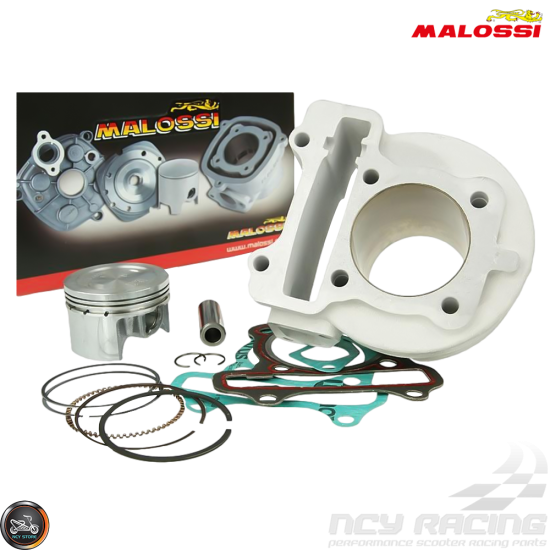 Description: Malossi Cylinder 52mm 88cc Big Bore Kit w/Cast Piston in aluminum with hard chromed liner for 139QMB 49/50cc 4-stroke Chinese Scooter. The bore = 87.9cc capacity. The original head may be retained according to the manufacturer, but only super unleaded should be used due to the compression ratio. Solid 4-stroke cylinder made in Europe. Suitable for Chinese-built 4-stroke and Kymco 4-stroke engines. Cylinder skirt diameter = 54.5mm
It's also recommended to get a 52mm big valve head (Part# NK100.13) in order to take full advantage of the bigger piston valve notch. However, you can use the original stock cylinder head without any problem.

When used in conjunction with a stock stroke of 41.4mm the engine displacement comes out to 88cc! When used with a 44mm stroker crank, engine displacement = 93.4cc!

NOTE: Please, measure with a caliper 139QMB crankcase bore (opening) for 54.5mm cylinder outer diameter sleeve need a minimum 54.6mm bore clearance or boring and machining are required. If, engine case must be bored, order an engine bore tool (Part# 1400-1001).

Specifications:
Includes the following Cylinder, Piston + Rings, Gaskets (compression base gaskets, steel head gasket), Wrist pin, and Circlips.
• 1x Cast-Alumin Piston: 51.48mm
• 5x Piston Rings: 52mm
• 1x Wrist Pin w/G-clips: 38x13x9mm
• 1x Cast-Iron Cylinder: 52mm
• Outer Sleeve Diameter: 54.5mm
• Cylinder Height (w/o sleeve): 53mm
• Overall Height (w/sleeve): 70.3mm
• Made in Italy
• Fit Intake Studs: M6 / Nuts: M6 / Socket: 8mm
• Fit Exhaust Studs: M6 / Nuts: M6 / Socket: 8mm
• Fit Rocker Arm Assembly: 64mm or 69mm / Feeler Gauge: .004in / .005in / Socket: 9mm
• Fit Cylinder Studs: 168mm 176mm / Nuts: M7 / Washers: M7 / Socket: 10mm
• Fit 50mm Stud Spacing /Diagonal 70.5mm
• Fit Cylinder Head 50mm to 52mm 2V
• Fit Crankshaft 41.4mm to 44mm
• Fit Dowel Pin Set (8x14mm)
• Fit QMB 49/50cc+

Supported Models: GY6 139QMB 49cc-50cc engines, Buddy50, Filly 50, Kymco, QLink, RoughHouse, SYM, TaoTao
-----
Item Weight & Product Dimensions:
• 1.437 Pounds | 4.463" (L) x 4.156" (W) x 2.767" (H)

Malossi Cylinder 52mm 88cc Big Bore Kit w/Cast Piston (139QMB)
Stock:

40

Reward Points:

10

Part #:

3113243

Malossi
Price in reward points: 256
Tags:
malossi cylinder 52mm 88cc big bore kit cast piston 139qmb
,
malossi 52mm cylinder 88cc big bore kit cast piston 139qmb
,
malossi 52mm cylinder
,
malossi cylinder 52mm 88cc big bore kit aluminum piston 139qmb
,
malossi cylinder 52mm big bore kit aluminum piston
,
malossi 52mm wear-resisting valve cylinder
,
malossi big bore kit
,
malossi cylinder
,
gy6 big bore kit
,
gy6 cylinder
,
scooter cylinder
,
scooter big bore kit
,
malossi 52mm wear-resisting valve cylinder head
,
malossi big bore kit
,
malossi 52mm cylinder