MotoForce Holding Tool Variator - Clutch - Flywheel (MF99.00068)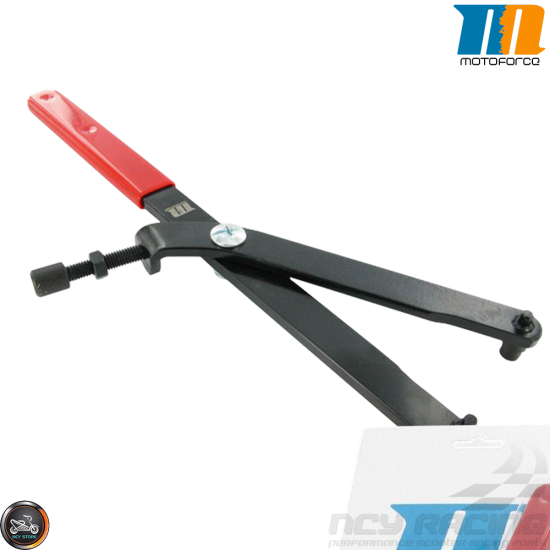 Description: This special MotoForce Holding Tool hold the torque clutch or flywheel in place, which makes a quick and straight-forward removal of variator driver face, flywheel, and clutch possible. It has two male pins on each side size 5mm and 9mm that will fit most standard GY6 variator drive fan pin slots (use 5mm pins), flywheel pin slots (use 9mm pins), and 9mm pins will fit easily any wide-open clutch bell slots. An essential part of serious tuners. Will make tuning the CVT unit and stator flywheel unit so much easier especially for those who don't have access to the impact power drill set. This holder tool is a very useful tool to have on hand rather than try to improvise. Using proper tools such as this will help not only to ensure properly removing but also to re-tightening parts safely and securely back.

Instruction: 1. Place Holding Tool pins into variator drive face fan pin slots (use 5mm pins) or flywheel pin slots (use 9mm pins) or wide-open clutch bell slots (use 9mm pins) to get the desire "Y"-width. 2. Twist the adjusting bolt located mid-section section of the holding tool to secure Y-width. 3. Either hold manually the handle from turning or lower the holding tool handle to the ground or against abstract to wedge-lock in place handle from turning while variator, flywheel, or clutch nut is to turn. 4. Can use impact wrench power drill or a manual wrench socket to reverse nut against holding tool handle placement. Remember turn nut socket "lefty-is-loosy" and "righty-is-tighty" in order to remove or re-install your variator, flywheel, or clutch nut.
NOTE: To completely remove the cone-pressed stator flywheel from the crankshaft you'll need an additional Flywheel Puller tool (Part# GY6FPT).

Specifications:
•Include the following Variator - Clutch - Flywheel holding tool.

• 1x Y-Open L: 13<230mm / 2x Pin Size: 5.5mm reverse side 9mm
• 1x Adjustable Position L: 64x6mm / Screw w/M12x7mm Nut (black)
• 1x Phillip Screw w/M13 Rubberized Nut (silver)
• 1x Made in Taiwan
• Fit GY6 125/150cc+
• Fit QMB 49/50cc+
Supported Models: GY6 139QMB 49cc-50cc 4-stroke, 50QMF 90cc-100cc, 152QMI 125cc, 157QMJ 150cc, 161QMK 170cc, 161QML 200cc, Chinese Scooter, ATV, Genuine Buddy, Kymco, Polaris RZR 170, Ruckus, TaoTao, Vento, and virtually any other GY6-based engine with these measurements.

-----

Item Weight & Item Dimensions:
• 1.068 pounds | 12.75" (L) x 3.015" (W) x 0.951" (H)

MotoForce Holding Tool Variator - Clutch - Flywheel (MF99.00068)
Stock:

40

Reward Points:

1

Part #:

MF99.00068
MotoForce
Price in reward points: 30
Tags:
motoforce-holding-tool-variator-clutch-flywheel-mf99.00068
,
variator tool
,
clutch tool
,
variator holding tool
,
holding tool
,
holder tool
,
lock tool
,
motoforce holder tool
,
motoforce lock tool
,
motoforce variator clutch flywheel lock tool qmb gy6 universal
,
variator clutch flywheel lock tool qmb gy6 universal
,
motoforce lock tool qmb gy6 universal
,
motoforce variator lock tool qmb gy6 universal
,
motoforce clutch lock tool qmb gy6 universal
,
motoforce flywheel lock tool qmb gy6 universal
,
motoforce variator lock tool
,
motoforce clutch lock tool
,
motoforce flywheel lock tool
,
variator lock tool
,
clutch lock tool
,
flywheel lock tool
,
variator holder tool
,
clutch holder tool
,
flywheel holder tool