NCY Engine Gasket 57.4mm Set (GY6)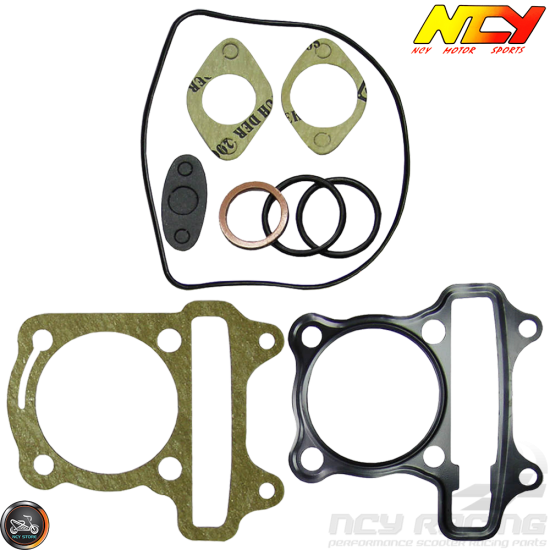 Description:
Complete NCY Engine Gasket 57.4mm Set. Includes crankcase-right, head, base, exhaust, intake, secondary air, tensioner, time cover, transmission, and valve cover gaskets.
NOTE: Recommend prep clean with alcohol the metal cylinder gasket prior to applying copper spray on metal cylinder gasket, timing gasket, and transmission cover gasket ONLY. All else gaskets you can install dry for ease of removal and clean up later, no need to copper spray (overkill).

Specifications:

• 1x CVT Cover Gasket (Fit 16.125" shortcase ONLY)
• 1x Fiber Base Gasket 57.4mm (Fit 54mm Stud ONLY)
• 1x Steel Head Gasket 57.4mm (Fit 54mm Stud ONLY)
• 1x Crankcase (right) Gasket
• 1x Timing Cover Gasket
• 1x Transmission Cover Gasket
• 1x Cam Chain Tensioner Gasket
• 1x Intake Manifold Gasket
• 1x Exhaust Gasket (Copper)
• 2x Oil Cap O-Ring (rubber)
• 1x Valve Cover D-Ring (rubber)
• Made in Taiwan
• Fit Intake Studs: M6 / Nuts: M6 / Socket: 10mm
• Fit Exhaust Studs: M8 / Nuts: M8 / Socket: 12mm
• Fit Cylinder Studs: 187.5mm 195.5mm / Nuts: M8 / Washers: M8 / Side Bolts: M6 / Socket: 8mm-12mm
• Fit Crankshaft 57.8mm +3mm
• Fit Dowel Pin Set (10x14mm)
• Fit Cam Chain 45 (90) links
• Fit Chain Guide (standard)
• Fit 54mm Stud Spacing (A-Block) - ALL FIT
• Fit 57mm Stud Spacing (B-Block)- unless LISTED.
• Fit GY6 125/150cc+

Supported Models: NCY Cylinder Gasket Set (Part# 1100-1272); GY6 152QMI 157QMJ 161QMK 161QML Chinese Scooter, ATV, Genuine Buddy, Kymco, Ruckus, Vento
-----
Item Weight & Product Dimensions:
• 0.28 pounds | 17.5" (L) x 7.125" (W) x 0.225" (H)
NCY Engine Gasket 57.4mm Set (GY6)
Stock:

36

Part #:

1100-1273
NCY
Price in reward points: 18
Tags:
ncy engine gasket 57.4mm set gy6
,
ncy 57.4mm engine gasket set
,
cylinder gasket
,
cylinder head gasket
,
center crankcase gasket
,
starting clutch crankcase gasket
,
intake spacer gasket
,
tensioner gasket
,
2x oil cap o-ring gasket
,
valve cover o-ring
,
cam chain tensioner gasket
,
exhaust round gasket
,
transmission gear case gasket
,
cvt gasket