NCY Drive Face 94mm CNC-Machined Alumin (Aprilia, JOG, Zuma 50)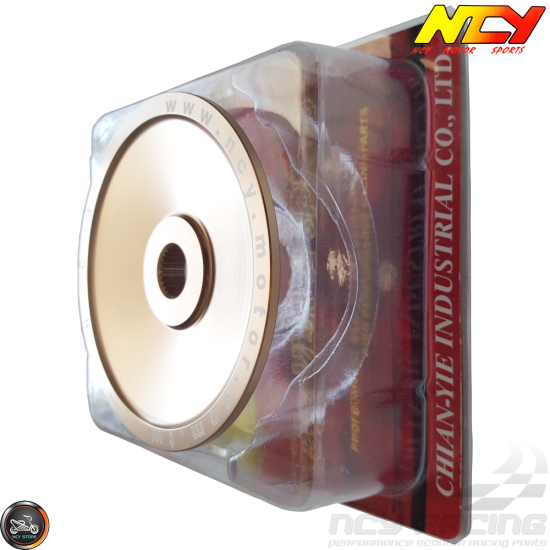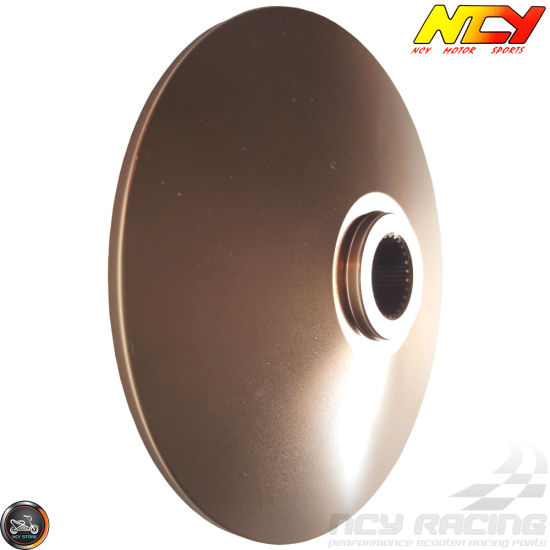 Description:
High-quality CNC machined aluminum drive face 94mm by NCY for QMB 49/50cc 2-stroke engine scooters. The CNC-machined running surface of the disc allows for a clean, low-vibration belt operation. Not to mention its kool spectrum of silver, brass, and rose gold - color streaks!
NOTE: Caution must be taken when using this product! This is intended for show purposes/off-road use only and should not be used on a public road or highway! You are responsible for any damage this product may cause to you personally or any other objects/personal property.

Installation: 1. Slack the belt by opening the CVT clutch gives belt slack to the variator side. 2. Then install the variator drive face while lifting the slack belt further away from the center boss if done properly should not see any splines between variator drive face slop-side and boss flat-side. Should be flushed together. 3. Then install the existing variator fan, washer, and hand-tight nut. 4. Finally, apply blue Loctite, torque nut to 30-35ft-lbs. For reassurance please consult your manufacturer's variator torque specs.
Specifications:
• 1x Aluminum CNC Machined Anodized Drive Face Weight: 96.4gm
• Splines: 15 / ID: 14<16mm / OD: 93.7mm / H: 20mm
• Made in Taiwan
• Fit Variator Housing: 95mm / Weights: 15x12mm / Slides: 3 / Top: 79.3mm / Boss: 20mm / Shims: 18mm
• Fit Belt Size: 818-19-28 (Fit Aprilia ONLY)
• Fit Belt Size: 788-17-30 (Fit JOG ONLY)
• Fit Belt Size: 748-18-28 (Fit Zuma ONLY)
• Fit Aprilia 50
• Fit JOG 50
• Fit Zuma 50

Supported Models: NCY CVT KIT (Part #1200-1197); Yamaha C3, Yamaha Zuma CW50, Yamaha Zuma 50F, Yamaha Vino Minarelli Jog engines, Chinese Yamaha Clones 1PE40QMB 1E40QMB engines, Malaguti, CPI, Aprilia Scooters with Piaggio engines, and Franco-Morini 50cc engines found in the 1E41QMB Suzuki AD50 AG50, TGB R50X, TGB 101, TGB 303, and Peirspeed Scooters.
-----
Item Weight & Product Dimensions:
• 0.212 pounds | 3.688" (OD) x 0.551" (ID) x 0.787" (H)

NCY Drive Face 94mm CNC-Machined Alumin (Aprilia, JOG, Zuma 50)
Stock:

39

Reward Points:

1

Part #:

1200-1248
NCY
Price in reward points: 30